Eglu Classic for Guinea Pigs and Rabbits Instruction Manual
Posted by on 16 May 2013 02:35 PM
The Eglu Classic for Guinea Pigs and Rabbits is designed to sleep between 3-4 Guinea Pigs or 1-2 larger breed Rabbits. It is available standard with a 2 metre run for Rabbits and a 1m run for Guinea pigs and includes a shade and as well as a hay rack, water bottle and feed bowl. The run can also be extended by 1m to make it longer to give your Rabbits and Guinea Pigs more space to move round. Accessories such as durable covers and jackets can be purchased seperately to protect your pets and your Eglu from the elements.
Developed with leading animal behaviourists and thousands of hours of testing, its unique design enables your Guinea Pigs and Rabbits to express their natural instincts, making ownership more rewarding and enjoyable.The Eglu Guinea and Rabbit Eglu is an innovative design which offers a fun and stimulating environment for your pets to express their natural instincts. It has two main areas: the house and a secure outside run. The water bottle is kept inside the house, meaning it is protected from direct sunlight, reducing algae formation in the bottle, and it will be insulated by the house, reducing the chance of freezing during winter.
The Eglu Classic itself is double insulated keeping your pets warm in the winter and cool in the summer and is available in 5 different colourful and are UV protected against harsh sunshine. Let your pets out in the morning and shut them away at night using the front door. Easy to use, and perfect when you want to keep your pets out in the run while you clean the inside of your Eglu or refill their water and food. You can easily handle your pets or refill their food and water, by using the handy side hatch.
This manual will cover the parts you should receive with your Classic, and step by step illustrated instructions on how to assemble the Classic from start to finish. You will also find advice on how to maintain your Classic. The total build time for constructing your Classic is roughly around 1hour.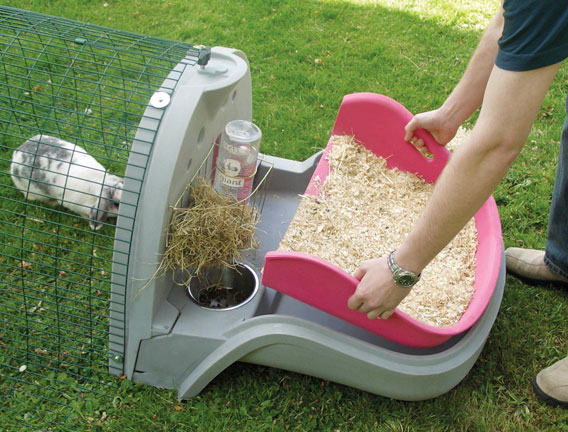 ---